500kg TUMA drawer slide
SKU: DSCHHD-500KG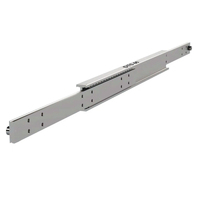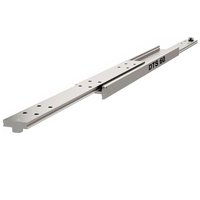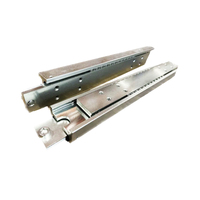 ---
Description
IRS 500kg super heavy duty drawer slide. Tough and robust and great for working heavy loads, generators, battery storage units etc.
Price is for a PAIR of drawer slides.
Features:
Load capacity Varies from length to length, see data sheet.
Temperature range: Steel slides -20°C to +250°C
Available in lengths 200mm - 2000mm (100mm variance)
Material: Cold drawn carbon steel
Electrolytic alkaline zinc coating
Fitting to the side mounting: counter sunk heavy duty screw / nut fixing
Please note that drawer slides support approximately 30% less weight capacity than indicated by their nominated rating when at full open extension. Please consult the weight load chart for further details.
Installation
This top quality product has been tested in the Australian environment. Please note a few things to consider during installation.
When marking hole placements you MUST NOT drill through the slide holes during installation. Doing this will create metal filings which lodge in the tracks resulting in rough running and ultimately, failure of the slides.
Depending on substrate, stainless steel 'flat head' counter sunk heavy duty screw / NY-lock nuts or stainless steel rivets are recommended.
There must be no rubbing of the fixing against the moving slides. This will cause failure of the slide.
Our slides are designed to be side mounted paired side by side. Mounting them vertically one above the other or in a flat position will void the warranty.
Datasheet
---
Product video
---
You May Also Like
---
Others Also Bought