125kg Drawer Slide - Side Mounting - Locking
SKU: DSCHMDL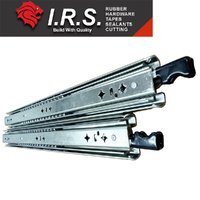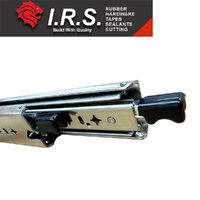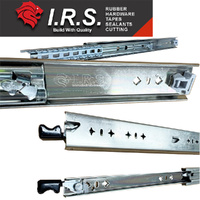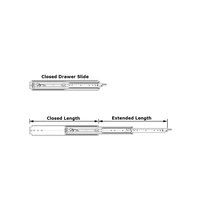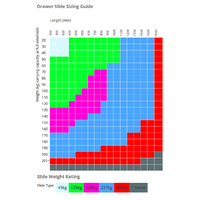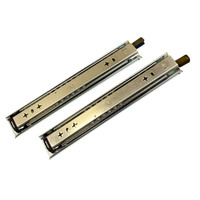 Zinc plated 125kg side mounting, locking, drawer slide. Full extension leaves no wasted space.
---
Description
Drawer Slides / Runners 350 Long to 1000 long
Strong full extension locking drawer slides that leave no wasted space. Weight capacity of these drawer runners meets the needs of all but the most demanding applications.
Suit 4x4, 4WD, Fridge.
Price is for a PAIR of drawer slides.
Colour of locking tabs:
Please note that we are currently transitioning from yellow locking tabs to black. Therefore you may received yellow or black locking tabs with your order. Should you order more than one set of drawer slides, we will only send you one colour to ensure consistency.
Features:
Load capacity: 125 kg/pair
Available in lengths 300mm - 1000mm
Material: Steel
Zinc plated
Full extension
Guided by: 2 ball cages
Fitting to the side panel: screw fixing
Fitting to drawer: screw fixing
Simple installation
Allow 25mm extra for the locking tab
Please note that drawer slides support approximately 30% less weight capacity than indicated by their nominated rating when at full open extension. Please consult the weight load chart for further details.
Installation
This top quality product has been tested in the Australian environment. Please note a few things to consider during installation.
Locking drawer slides have a designated left and right. When installed correctly the locking tab should push down to release.
The inner rail can be fully disengaged and separated from the outer casing for easier installation
When marking hole placements you MUST NOT drill through the slide holes during installation. Doing this will create metal filings which lodge in the tracks resulting in rough running and ultimately, failure of the slides.
Depending on substrate, stainless steel 'flat head' counter sunk heavy duty screw / NY-lock nuts or stainless steel rivets are recommended.
There must be no rubbing of the fixing against the moving slides. This will cause failure of the slide.
Our slides are designed to be side mounted paired side by side. Mounting them vertically one above the other or in a flat position will void the warranty.
---
Datasheet
---
Drawings
---
Product video
---
You May Also Like
---
Others Also Bought