Drop T Compression Handle (NS18430)
By: Jorrit Dijkstra On: 16 May 2018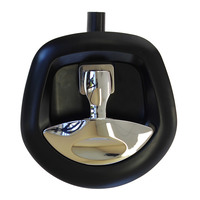 A versatile and durable compression handle
The NS18430 Drop T Compression Handle is a versatile, strong and durable handle that can be used for a range of different purposes. You can use it to lock up your tools in a box, make sure nobody sneaks inside your trade canopy or to secure your camper. The handle comes as a black dish with chrome handle or a chrome dish with a chrome handle to complement a variety of installations.
The NS18430 has either 3, 2 or 1 point locking, so security is guaranteed. The compression handle comes with keys and barrels installed, so there is no more work for you but to simply secure it in place.
To replace the barrel in the NS18430 Drop T Compression Handle, you have to be cautious. If you take the barrel out of the lock without the key in it and hold it upside down, the small springs and locking metals will fall out and they're hard to put back. To install the barrel is quite easy, but requires a few steps and tricks.
Installing the barrel
First, make sure that you hold the barrel at 11 o'clock, so it will fit. Then make sure the backside of the handle is in the open position, then push in the barrel till you hear a click and it feels solid.
Removing the barrel
Removing the barrel is a bit more complicated. Insert the key in the barrel and turn it to the locked position so the teeth inside – while watching from the back – are visible. Ensure that they are 'collapsed' so the barrel can slide out. Use a small key to push in the last teeth and use the key to pull out the barrel. No force should be necessary, but since you're working with very small parts it can be a bit fiddly.
Again, make sure not to hold the barrel upside down without the key inserted or it will fall apart.
Replace the barrel or change the key
The NS18430 Drop T Compression Handle is supplied with the barrel already inserted, so you may want to replace it or change the key. You can do this yourself, but be careful as the small parts can get lost very easily. Pay attention to the inside of the barrel from the backside and be patient; it might take a while to get all the teeth in the right place.
You're sure to love the strength and security of this premium handle.
You may be interested in:
http://industrial-rubb.neto.com.au/whaletail-euro-key-handle-with-key-barrel.html
http://industrial-rubb.neto.com.au/drop-t-compression-handle-black-dish-chrome.html
http://industrial-rubb.neto.com.au/drop-t-compression-handle-chrome.html
---
Leave a comment